AutomateX is uw eigen IT afdeling
Uw IT heeft aandacht nodig!
Het lijkt makkelijk, stekker(s) erin en we hebben contact: Hoera!!!  
PC's kunnen op internet, er kan geprint worden.  We hebben communicatie met de hele wereld en alles lijkt in orde.  
Maar is dat eigenlijk wel zo?
Rijdt u al lang op een gladde band die u wel is opgevallen?  Wat gebeurd er als u daar te lang op doorrijdt?  Juist, en zo is het ook met de IT (onderdelen) van uw onderneming; de band gaat een keer klappen.
En het is echt waar: voorkomen is vele malen gezonder dan genezen.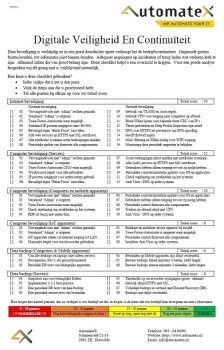 Hier de checklist om uw IT-score in beeld te krijgen!
Gebruik deze checklist om een score te verkrijgen ten aanzien van uw IT. Wij helpen u graag naar een strategie om uw IT naar een hoger plan te tillen. Wij nemen uw score dan ook graag met u door. Geheel vrijblijvend natuurlijk!
Onze drie pijlers waarop u kan leunen.

AutomateX is uw eigen IT afdeling!
Wij verzorgen alles op IT gebied voor uw onderneming.

Weten wat er allemaal van uw onderneming bekend is in de digitale onderwereld: Darkweb

Wij werken samen met uw IT afdeling en kunnen allerlei diensten "overnemen" met ons geautomatiseerde systeem.
AutomateX is sinds 2013 een betrouwbare partner voor het MKB. Onze missie is uw onderneming te ondersteunen als u zelf geen of te weinig IT-kennis in huis heeft, maar wel inziet dat IT een belangrijk onderdeel is (geworden) van uw algehele bedrijfsvoering. Of ondernemingen die (bepaalde) dagelijkse IT werkzaamheden (tijdelijk) gecontroleerd uit handen willen geven. Digitale veiligheid, continuïteit en samenwerken staat daarin bij ons altijd voorop.
Ons T.E.A.M. (Together Everyone Achieves More) is betrokken en stelt uw wensen en ervaring centraal. Ook al opereren we als externe IT-afdeling, we leven ons echt in, in de cultuur, de mensen en de bedrijfsdoelen.
We integreren onszelf als het ware om onderdeel te zijn van uw bedrijfs-DNA om zo de meest efficiënte en effectieve IT-oplossingen te kunnen bieden.